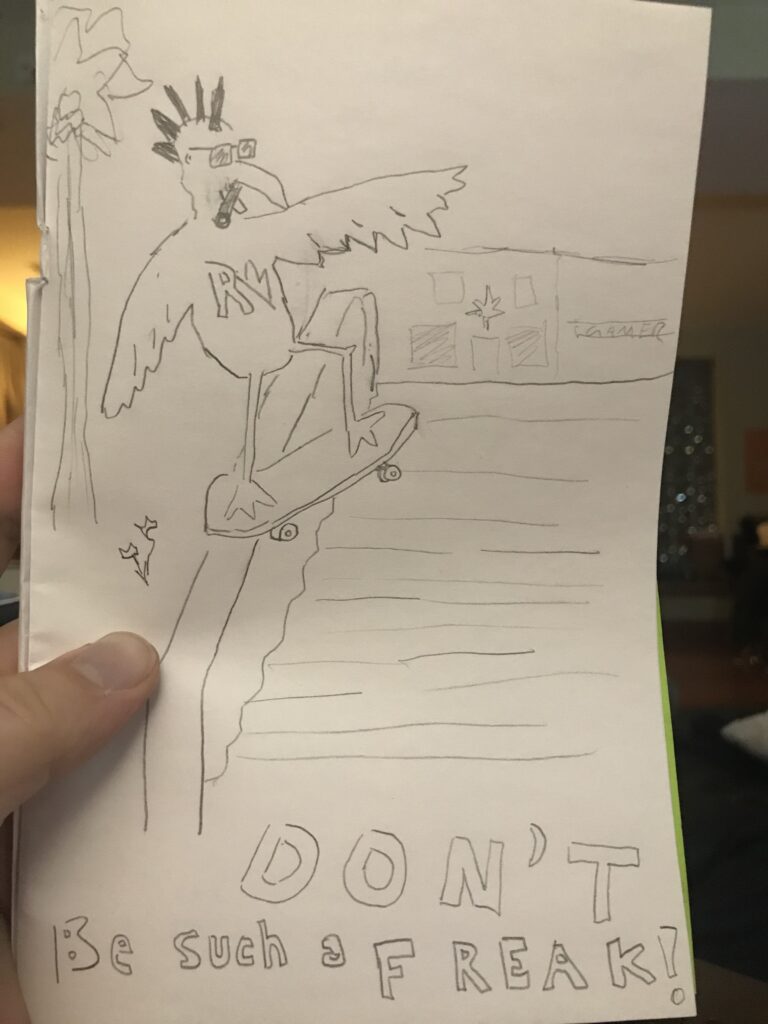 It makes sense that when we were called weird as kids, we took it hard.
The allure of the underground, the counterculture, drove my life from as far back as I can remember. Yo-yo culture in fourth grade called out to me. I bought any instructional videos I could get my hands on. I started a business where I would go to the malls in St. Louis — which most of my friends didn't have access to — and buy a bunch of yoyo strings then sell them at school everyday. It was a small private Lutheran school, kindergarten through 8th grade, and I was slinging strings to everyone. I had a variety of colored strings that people could choose from, which were slightly more expensive than the plain white strings. I used to leave this Airwalk shoebox in my cubby at school and carry it around at recess. In fourth grade, I made actual money doing that.
I imagine that I was as daydreamy at that time as I am now, so that means I must have been spending all day imagining how my life as a string-seller would develop. I would have imagined a storefront at some point, maybe eventually figuring out how to manufacture the strings myself.
That formula is really the same one I think about everyday now. 1) Find some sort of interesting product that fits who I am and take the first steps to explore the market. 2) If a market is found, or if I can endure pushing it long enough that I'm more determined to find the market, then I can worry about making it a scalable endeavor. Storefront, in the case of the stringbusiness. And 3) figure out which part of the products I can a) produce myself and b) produce cheaper than what I'm paying.
This is really the criteria for how I think about my business. But you do sort of end up as a freak, because you are constantly looking at what you buy thinking: what can we do ourselves for cheaper? For instance, at the coffeeshop we went from purchasing all of the chocolate sauce and flavored syrups that we use in drinks to making them from scratch with a blend of sugar, water, and extracts. This drove the price way down for us and gave us an invitation to drive the quality up, or the variety. The best, it made us less dependent on an overpriced coffeeshop supplier.
I think it takes being a freak to really imagine getting your revenue stream "off the grid", as in self-sustaining. It is obviously an ideal and probably you will always need a lot of access to other businesses — this is the beauty of being in business in a lot of ways, the connection to others' ideas — but you must explore what you are capable of and you cannot ignore an opportunity to drive costs down if you want to survive in an increasingly cutthroat world.
Sometimes it takes being a freak to begin thinking of yourself this way. But all my friends who live in the city already think small town folks are kinda freakish anyway, so might as well embrace the label.